Tata Coffee's Jumboor Estate receives honours at the Sixth Ernesto Illy International Coffee Awards 2021
Tata Coffee's Jumboor Estate receives honours at the Sixth Ernesto Illy International Coffee Awards 2021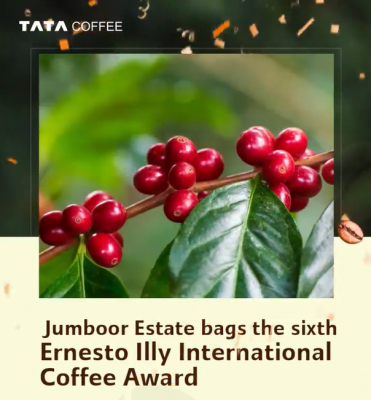 December 16 2021: India's leading producer of specialty coffee – Tata Coffee Limited (TCL) recently won a noteworthy recognition at the Sixth Ernesto Illy International Coffee Awards 2021. Jumboor Estate is one of the key estates of Tata Coffee, renowned for producing the Jumboor Gold- an exquisite quality yellow bourbon Arabica variety. The estate received two acclaimed awards – 'India's Best Coffee' and 'Best of the Best' – overall best coffee in the world, decided by an esteemed panel. Launched in 2016, The Ernesto Illy International Coffee Award, is an award granted to the producer of the best sustainable coffee, picked amongst the highest quality coffee producers from leading coffee-growing countries.
The event was held on a virtual platform and had an independent panel of international culinary and coffee experts. Jumboor Estate was conferred the Illy International Coffee Awards award after careful evaluation of its sustainability initiatives, care for nature, and responsibly produced coffee. The current edition of the award saw 27 finalists – three each from nine countries – Brazil, Colombia, Costa Rica, El Salvador, Ethiopia, Guatemala, Honduras, India, and Nicaragua. The international panel – which comprised three-star Michelin chefs Kyle Connaughton, Viki Geunes and Niko Romito; journalists Josè Carlos Capel, Clark Parkin and Michela Proietti; and coffee experts like Sunalini Menon, Birhanu Gebis Wuli and Henry Alirio Martínez Salinas, voted the finalists.
Chacko Thomas, Managing Director & CEO, Tata Coffee speaking on the award said, "Tata Coffee is extremely proud to receive this award, as it is the first time India has won the prestigious Ernesto Illy International Coffee Award. This is a testimony to the sustainability initiatives that we have undertaken across all the estates to produce exceptional quality coffee. In line with our core values, we will continue to work with our businesses and our partners to create the finest coffees while nurturing the ecosystems around us."
About Tata Coffee Limited:
Tata Coffee Limited [TCL] is a subsidiary of Tata Consumer Products Limited [TCPL], formerly known as, Tata Global Beverages Limited [TGBL]. It is Asia's largest integrated coffee Company, the second largest exporter of Instant Coffee and foremost producer of Specialty Coffee in India. The Company produces between 8,000 - 10,000 MT of shade grown Arabica and Robusta Coffee at its estates in South India. Tata Coffee's estates are certified by three agencies: UTZ, Rainforest Alliance and SA 8000 reaffirming its commitment to the people and the environment. TCL exports Green Coffee to countries in Europe, Asia, Middle East and North America. The Company is also the largest corporate producer of Pepper in India. The Company's two Instant Coffee manufacturing facilities in India have a combined installed capacity of 8,400 MT. The Company is the exclusive and sole supplier of Premium Specialty Arabica roaster beans to Tata Starbucks stores in India. The Company had also launched its Coffee brand, 'Sonnets', with Single Origin Specialty Arabica beans, on its e-commerce portal. TCL, through its wholly owned Subsidiary, Tata Coffee Vietnam Company Limited [TCVCL], had commissioned a state-of-the-artFreeze-Dried Instant Coffee manufacturing facility in Vietnam with a capacity of 5,000 MT per annum, which became operational during Q1FY20. For more information on the Company, please visit our website https://tatacoffee.com/